Come visit us!
A brave space for innovation and creativity.
Honors & Scholars Programs reside in a recently renovated suite on the 3rd floor of Bartlett Hall.  In addition to ample program offices, the space includes an updated seminar room for honors classes, a coffee bar & kitchenette, and a comfortable student lounge. We are excited to have you visit this energizing space that provides many opportunities for community building, cooperation, and engaged learning.
Suite Location
Accessing Bartlett from the SOUTH (campus/campanile side):
Come in entrance S2 (far west end near the sculpture) and turn right. 
Use Elevator 1 (or stair 3).
Accessing Bartlett from the NORTH (W. 23rd Street/parking ramp side):
Come in entrance N1 and turn right. 
Use Elevator 1 (or stair 2).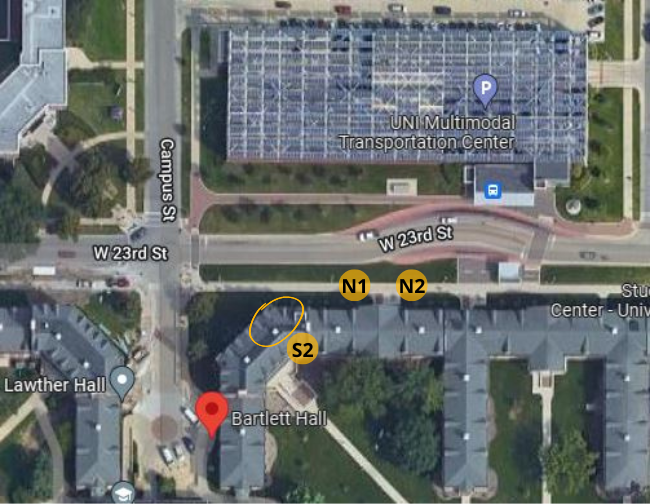 Parking Options
Street, Permit, & "Park and Pay" available!
Free temporary parking is available along W. 23rd St.
"Park and Pay" is offered on the top floor of the Multimodal Transportation Center (MTC)
B Permit-only parking is available for students in the lot behind MTC
Street address (for GPS purposes): 1200 W 23rd St, Cedar Falls, IA 50614-0355     
Suite Amenities
Classroom
Bartlett 3021 is a high-tech classroom designed for interactive learning.  This space allows for seminar style large-group discussion with the option to move tables into breakout pods.
Coffee Bar
Honors and Scholars students no longer have to go far to get some caffeine! Instead of leaving the building, students can brew a fresh cup of coffee or tea at our coffee bar stocked with multiple coffee flavors, sugars, creamers, and tea packets.
Bartlett Courtyard
Our Annual Fall Picnic is held on the Bartlett Courtyard located on the southwest corner of Bartlett Hall by the large sculpture.  Several other activities are held here each year including the first-year welcome event for new and incoming students.
Student Lounge
The student lounge was created as a smart, multi-functional space. You can socialize, study, research at the computer station, watch TV, print assignments, charge your phone, or relax on the giant bean bag.